When one of you works shifts (not me), and 'weekends' happen at odd moments during the week, you have to grab your moments of free time together when you can.
And when that window of free time should happen to co-incide with the weather *finally* deciding to improve, there's nothing for it but to head off outside, grab a cheese roll or two, some grapes and a packet of crisps – our tastes are simple, but our appetite is for the sublime:
A twenty minute drive and we're on the edge of the Lowther hills. There's a path that leads up and through the hills, it's an ancient path, the Wald Path it's called, you could walk through the hills to Lanarkshire if you'd the legs for it, and the path moves you instantly into a different time, up past the old Roman fort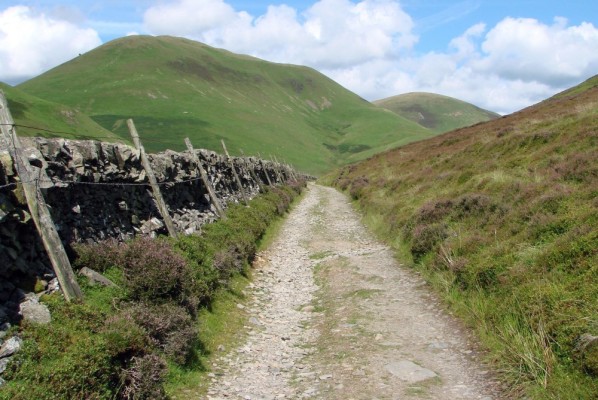 but to be honest, we've not much appetite for walking today, the day is just too beautiful.
The heather is in full bloom – you can just see it there by the side of the path, and it's almost impossible to walk past it because the flowers are singing out to me, all scratchy and wiry and purple of Scottishness, all reminders of childhood summers, and there's nothing for it but to stop and stop again to take their photograph: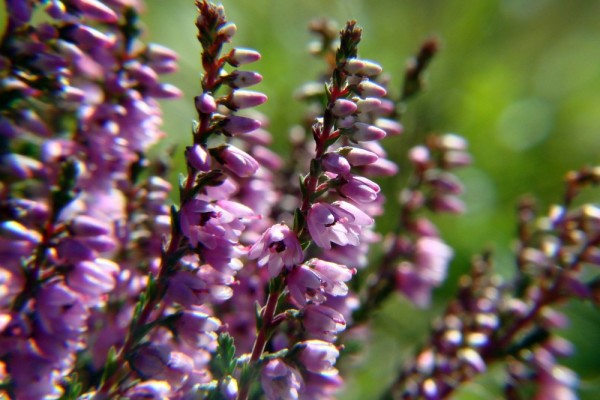 After our picnic lunch: nothing more than mooching about.
I've taken my shoes and socks off (to cross the burn – I'm hopeless at jumping and have been known to walk huge detours to avoid the 'invitation' to jump across) and it's so lovely just to wander about feeling the grass under my feet and feeling the warmth of the earth.
The meadows are damp after all the rain and they're hoaching with bog asphodel and ragged robins, butterflies dancing along the tops. There's a farmer working nearby and the only sound, the only other human we see or hear, is the rumble of the tractor on the hill.
It's such a beautiful day.
It's one of those days that makes you think: oh but there's nowhere like Scotland on a summer's day after weeks of rain.
It's one of those days that makes you glad to be simply: here.